Recipes
Favorites from the former Seaward Inn
Anne Cameron's Famous The Cooks' Book
A great resource with some wonderful recipes!
The Cooks' Book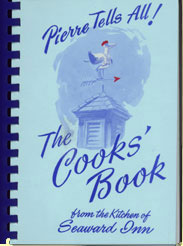 Available For Sale
The Cooks' Book is available at several outlets including the Toad Hall Bookstore in downtown Rockport Massachusetts. The book is also available from Amazon.com and Abe Books.
The Cooks' Book would make a great addition to your cooking library. Pierre tells all!
Contact Nancy for any questions or to find out more.
Contact Nancy
Sample Seaward Recipes
Some of the favorites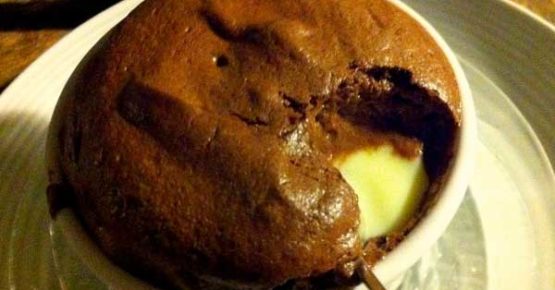 Pompadour Pudding
TOPPING
In small saucepan, blend together:
1 square (28 g) melted chocolate
2 tablespoons (30 ml) milk
6 tablespoons (90 g) sugar
Set aside to cool.
On top of double boiler, combine, using wire whisk:
1/3 cup (75 g) sugar
1/8 teaspoon salt
2 tablespoons (30 ml) cornstarch
Add gradually:
2 cups (1/2 L) milk
2 egg yolks, slightly beaten Cook over boiling water for 10 minutes,
or until thickened, stirring constantly.
Add:
1/2 teaspoon (2.5 ml) vanilla
Fill custard cups two-thirds full.
Beat until stiff:
2 egg whites
Fold into chocolate mixture. Pour over custard and bake in preheated 325 ¡ F (165 ¡C) oven until
topping puffs or cracks a little, about 10 minutes. Serves 4 5.
To add yolks to a hot mixture:
Beat the yolks and add a little of the hot mixture, stirring constantly and thoroughly; then add this to the
rest of the hot mixture. Continue stirring until it thickens. Be careful not to over cook.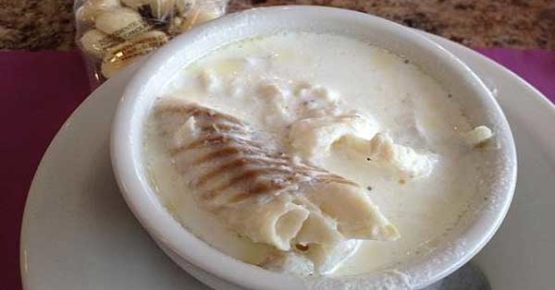 Haddock Chowder
Have a butcher skin and fillet a 4 pound haddock. Ask for bones and head to be used for stock. Place
a rack in bottom of kettle. Break up bones and cover with 2 cups of water and 1 tablespoon of salt. Simmer
for 10 minutes, drain and reserve broth.
Cook until tender but still firm:
3 cups diced potatoes – in fish broth to cover (about 1 pound – 450 g)
Bake fish fillets in buttered shallow pan at 325 ¡ F (1650C) for 10 minutes or until fish flakes easily.
When cool, flake fish and add to potatoes.
Add:
5 cups (1 1/4 L) scalded milk
1 cup (1/4 L) evaporated milk
2 or 3 tablespoons (30 to 45 ml) pork
add onion mix, salt and pepper to taste
Heat, but DO NOT boil.
Add gradually:
1 tablespoon (15 ml) cornstarch dissolved in
1/2 cup (I dL) milk
Cook until slightly thickened. Serve with pilot crackers, tossed green salad and dill pickles for delicious
lunch or supper menu.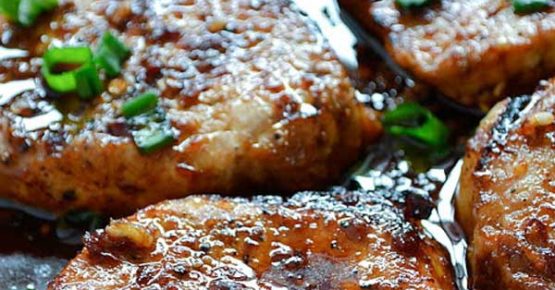 Seaward's Pork Chops
Combine and cover bottom of baking dish:
1/3 cup (3/4 dL) brown sugar
3/4 teaspoon (7.5 ml) salt
1/8 tablespoons (22.5 ml) lemon juice
1/3 cup (3/4 dL) chilli sauce
1/3 cup (3/4 dL) water
1 medium onion, chopped fine
Trim excess fat from 6 pork chops cut about 1 " thick. Dip chops in seasoned flour, then in evaporated
milk and on one side in seasoned bread crumbs. Arrange chops in baking dish, crumb side up. Cover tightly and
bake in preheated oven at 350¡ F (180¡ C) for 1-1/2 hours or until tender. Remove cover the last
20 minutes so that crumbs will brown. Check from time to time to see if more liquid is needed and add tomato
juice. Serve with lemon buttered broccoli and mashed potatoes.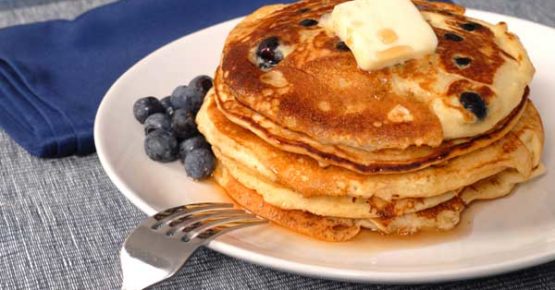 Blueberry Pancakes
Put in a mixing bowl and beat lightly:
3/4 cup (1-1/3 dl) milk
2 tablespoons (30 ml) melted butter
1 egg
Sift together:
1 cup (140 g) flour
2-1/2 tablespoons (12.5 ml) baking powder
2 tablespoons (30 ml) sugar
1/2 teaspoon (2.5 ml) salt
Add milk mixture all at once. Stir just enough to dampen the flour. Add extra milk to make the batter about
as thick as heavy cream. Reserve 1/4 cup (35 g) flour. Dredge 1/2 cup (1 dl) of blueberries and add to batter.
Buttermilk Pancakes
Use buttermilk instead of milk. Use 1/2 teaspoon (2.5 ml) soda and 1/2 teaspoon (2.5 ml) baking powder. For
lighter pancakes, seperate egg and beat egg whites until stiff. Use egg yoke as directed above. Fold egg whites
in last.